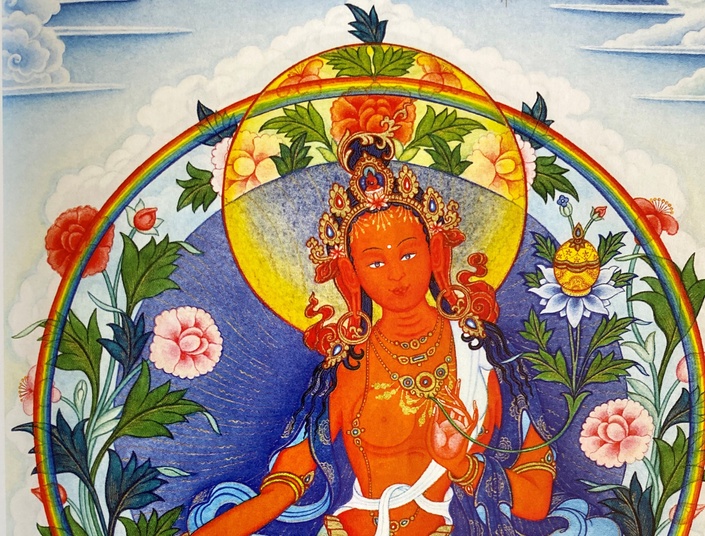 Tara Who Dispels Epidemics
A Powerful Healing Practice
In these 16 one-hour sessions, Lama Döndrup offers a series of pith teachings, a short calm abiding meditation, and the practice of Tara Who Dispels Epidemics. Originally offered on Facebook (and still offered each Tuesday and Friday at 8:15am), this series was designed specifically to offer guidance from the Buddhist perspective on how to navigate the current global health crises.
Living in a time of great uncertainty and isolation will easily give rise to fear and many thoughts that disturb one's sense of ease and well-being. In her teachings, Lama Döndrup offers concise instructions on the Buddhist approach to how to work with these emotions, encouragement, and concise teachings on yidam practice in general.
In each session, Lama Döndrup leads short Calm abiding meditation (shamatha), a useful tool that will help you to not follow disturbing thoughts as they arise, and stay grounded, remaining in the present moment; the only moment in which we can affect our experience.
Lama Döndrup then leads the powerful healing practice of Tara Who Dispels Epidemics (Jetsun Drolma Ritö Loma Gyönma) . Tara Who Dispels Epidemics is one the 21 forms of Tara. She protects from contagious diseases, pandemics and fevers by destroying them and bringing ease, health, and well-being. In this practice, we call upon Tara to enact her activity of dispelling epidemics through visualization and chanting of her mantra, activating our own innate healing capacities.
This series is an extremely accessible and helpful approach to learning the power and benefit of Vajrayana practices in our everyday lives.

Your Instructor

Lama Döndrup is Resident Lama at Sukhasiddhi Foundaiton and has practiced and studied in the Buddhist tradition for over twenty years. After five years of Theravadin Buddhist training, she immersed herself in the teachings and practices of the Shangpa and Kagyu Vajrayana lineages. In 2005, she completed the three-year retreat and was authorized as a lama. Lama Döndrup enjoys guiding students through creation and completion stage meditations; helping them to feel confident in their own understanding of ceremonies and teachings; and supporting the natural unfolding of their innate wisdom. In addition